Ukraine bans entry to Russian men 'to prevent armies forming' – The Guardian
Men aged 16-60 will be turned away, Ukraine says, while there are reports of women also being stopped from crossing the border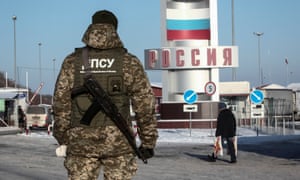 Ukraine has blocked Russian men aged between 16 and 60 from entering the country in a sweeping ban it says is aimed at preventing Russia from forming "private" armies on its territory.
The measure prohibits travel for hundreds of thousands of people and escalates a crisis between the two countries that was sparked on Sunday when Russian border guards opened fire on and captured three Ukrainian vessels and 24 crew.
This week Ukraine instituted martial law in 10 regions to prevent what it described as a possible land invasion by Russia. Russian soldiers were active in Crimea before the peninsula was annexed by Russia in 2014.
The Ukrainian president, Petro Poroshenko, tweeted that the latest measure was designed to prevent Russia from forming units of "private" armies on Ukrainian soil.
Some exceptions to the ban would be made, such as in the case of funerals, Ukraine said.
There have also been a number of reports in the last 24 hours of Russian women being denied entry to Ukraine, suggesting that the restrictions on Russians could be broader than publicly announced.
In a separate development, 21 sailors from the Ukrainian vessels captured in the Kerch strait last weekend have been transferred to Moscow, and three more are in Moscow hospitals. Russia says the sailors violated its border, while Ukraine says its ships were acting in line with international maritime rules and has demanded the sailors be treated as prisoners of war.
Ukraine has accused Russia of imposing an "economic blockade" on its ports in the Sea of Azov by blocking ships from entering the Kerch strait. Growing pressure from Russia near the site of a new bridge to Crimea has led to a dangerous escalation in tensions, and the Ukrainian president has called for Nato ships to travel to the Sea of Azov.
Meanwhile, travel between the two countries has grown increasingly difficult for locals. Ukraine barred direct air travel between the two countries in 2015, but Friday's announcement was the most draconian measure yet taken by the Ukrainian government. Millions of Russians have family members in Ukraine and vice versa as both countries were formerly part of the Soviet Union. Russians made 1.5m trips to Ukraine last year, the country's border guard service said.
Ukraine also appears to have blocked all foreigners, including Russians, from travelling through the country to Crimea. A new bridge runs from Russia to the annexed peninsula, while there are also direct flights. Travellers who enter Crimea without first crossing through Ukrainian immigration risk a ban and prosecution. Accredited journalists have also been blocked by Ukraine from traveling to the peninsula under martial law.
The imposition of martial law has largely been met with bemusement in the city of Mariupol, which was nearly overrun in 2014 and was hit by Grad missiles several times in 2015. Security measures don't appear to have changed markedly in the last several days.
But for thousands of families on both sides of the border, the travel ban could have dire results.
The move comes shortly before the holiday season, when travel across the border is expected to increase significantly. Russia has said it will not reciprocate the ban.
"It is terrifying even to talk about a mirrored response, because an attempt to mirror what is happening in Kiev could lead to insanity," said Maria Zakharova, a Russian foreign ministry spokeswoman. "It could simply lead to collapse, nationally speaking."
Late on Thursday the Ukrainian Orthodox church, which has been under the authority of the Russian Orthodox church for centuries, was granted independence, in a blow to Moscow.
The Ukrainian church's independence drive has been seen as a proxy for the political tensions, which were fuelled further on Friday when the Ukrainian intelligence agency searched the home of the leader of Kiev's biggest and oldest monastery, which is part of the Russian Orthodox church.
As 2019 begins…
… we're asking readers to make a new year contribution in support of The Guardian's independent journalism. More people are reading and supporting our independent, investigative reporting than ever before. And unlike many news organisations, we have chosen an approach that allows us to keep our journalism accessible to all, regardless of where they live or what they can afford. But this is only possible thanks to voluntary support from our readers – something we have to maintain and build on for every year to come.
Readers' support powers The Guardian, giving our reporting impact and safeguarding our essential editorial independence. This means the responsibility of protecting independent journalism is shared, enabling us all to feel empowered to bring about real change in the world. Your support gives Guardian journalists the time, space and freedom to report with tenacity and rigor, to shed light where others won't. It emboldens us to challenge authority and question the status quo. And by keeping all of our journalism free and open to all, we can foster inclusivity, diversity, make space for debate, inspire conversation – so more people, across the world, have access to accurate information with integrity at its heart. Every contribution we receive from readers like you, big or small, enables us to keep working as we do.
The Guardian is editorially independent, meaning we set our own agenda. Our journalism is free from commercial bias and not influenced by billionaire owners, politicians or shareholders. No one edits our editor. No one steers our opinion. This is important as it enables us to give a voice to those less heard, challenge the powerful and hold them to account. It's what makes us different to so many others in the media, at a time when factual, honest reporting is critical.
https://www.theguardian.com/world/2018/nov/30/ukraine-bans-russian-men-from-entering-the-country